#PratyushaBanarjee Suicide: Police Questions Boyfriend | Friends Suspect Foul-Play
Written by

Reporter KB

Published by:Pakistan Views
Saturday, 02 April 2016 22:23
Bollywood actress Pratyusha Banerjee's boyfriend has been questioned by police after she passed away this week aged 24.
According to reports, Rahul Raj Singh gave a statement just hours after the news broke of her apparent suicide at her home on Friday.
The 24-year-old actress, known for her role in the TV serial Balika Vadhu, was found hanging from the ceiling at her house on Friday.
Pratyusha was rushed to Kokilaben Ambani Hospital in Andheri, Mumbai where she was sadly pronounced dead. The news was confirmed by her boyfriend Rahul and her close friend and fellow actress Kamya Punjabi.
"There were injury marks on her nose, under her eyes. We have taken pictures (as a proof)....police are probing domestic violence angle. We will give our statement to the police," Pratyusha's actress friend Kamya Punjabi told reporters.

Rahul Raj Singh, Pratyusha's Boyfriend reaches hospital
Another close aide of Pratyusha suggests that she could never commit suicide and suspected foul play.
Actress Surbhi Chaterjee, who knew Pratyusha for around fifteen years, said Pratyusha was excited about her marriage with her boyfriend Rahul Raj Singh when they spoke a fortnight ago.
"Pratyusha was a very bold girl... she cannot commit suicide," Surbhi said.
Boyfriends Statement
Rahul Raj Singh has said to have recorded his first statement to police, "We used to stay in a 2-bedroom flat. We had two keys; one key was with Pratyusha and another with me."
Police recorded him saying, "When I entered the bedroom, I found Pratyusha hanging from the ceiling. I got very scared. Immediately, I called the neighbours and with their help, I took her to Kokilaben hospital. We assumed that she was alive...but she was not."

He added, "I got so scared that I did not inform the police. It was the hospital authorities who informed them. After the doctor's declaration, I called up Pratyusha's family members and some of our close friends."
Media reports that Pratyusha had become 'extremely depressed' over her relationship with her boyfriend. Some suggest that the couple was planning to get married soon while others talk of trouble between the two.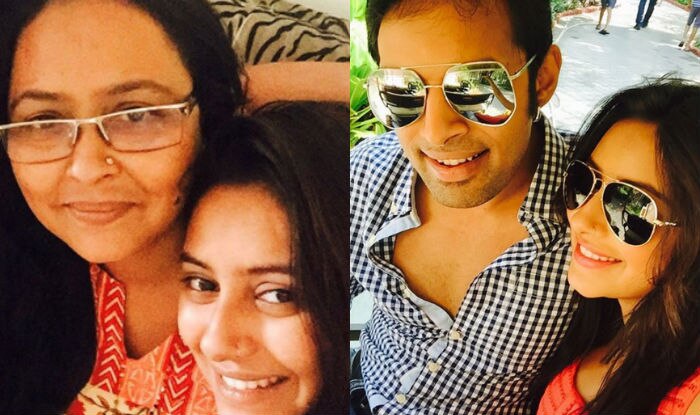 Mother Blames Boyfriend
Pratyusha's mother Soma Banerjee blamed Rahul Raj Singh for her daughter's death. She was quoted saying by Deccan Chronicle: "Rahul is definitely responsible for my daughter's death because she was unhappy and upset in the relationship."
Voicing concern over the alleged suicide, women activists called for stringent police action and investigation into the matter.
"It's a very sad news. She was a well-known actor. Investigation must reveal the reason behind her death. I hope there is no gory angle to this incident. This will continue till the judiciary is strict and fast and this is not going to stop till the police start taking strict action. I am sure this is not going to be the last incident," women activist Shamina Shafiq said.
Pratyusha Banerjee, who rose to fame with her portrayal of Anandi in 'Balika Vadhu,' was found hanging at her home in Mumbai yesterday.
She was declared dead when brought to the Kokilaben Hospital in Andheri by her former boyfriend Rahul Raj Singh.
Though the reason for this drastic step is unknown, there is a buzz that the 24-year-old actress was suffering from heartache over a failed love affair with Rahul.
Leave a comment
Make sure you enter the (*) required information where indicated. HTML code is not allowed.