323 Terrorists and 12,234 Suspects are detained in Balochistan
Written by

Reporter KB

Published by:Pakistan Views
Saturday, 05 March 2016 16:25
QUETTA: At least 323 Terrorists and 12234 Suspects are detained in southwestern Balochistan province this year, in a Home Ministry report revealed on Saturday portraying the progress of Security forces in Balochistan.

According to the home ministry, two thousand five hundred and ninety three intelligence-based joint operations were conducted across the province.
Frontier Constabulary (FC), police and levies participated in the raids. 323 terrorists belonging to various banned organizations were killed and more than twelve thousand suspects were detained in the operations.
The law enforcement personnel also recovered 3763 light and heavy weapons and confiscated 248,327 rounds during the raids.
---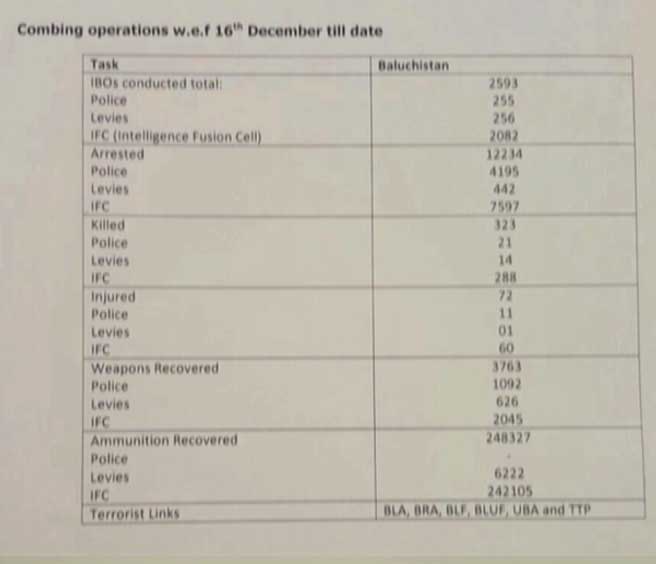 ---
The home ministry announced that action against anti-state elements would continue under the National Action Plan (NAP).
Balochistan, Pakistan's largest but most impoverished province, is home to a raging insurgency that has claimed the lives of hundreds of soldiers and militants since it re-ignited in 2004, with rebels often attacking government installations and personnel.
The province is also riven by sectarian strife and violence. The province shares borders with Afghanistan and Iran.
In the tribal areas of Pakistan, the army has intensified its offensive since the Taliban's massacre of 153 people, 134 of them children, in a school in Peshawar in December 2014.
Overall, levels of militant-linked violence have dropped dramatically this year, with 2015 on course for the fewest deaths among civilian and security forces since 2007 -- the year the Tehreek-e-Taliban umbrella group was formed.
Pakistan's insurgency began after the US-led invasion of neighbouring Afghanistan in 2001, which led to a spillover of militants across the border and a surge in recruitment for extremist groups.
Leave a comment
Make sure you enter the (*) required information where indicated. HTML code is not allowed.