San Bernardino Shooter, Tashfeen Malik - New Developments
Written by

Reporter KB

Published by:Pakistan Views
Tuesday, 08 December 2015 16:53
At a moment when CNN is being criticised for showing a 'tempered CNIC' of Tashfeen Malik to prove her a Pakistani national, the CNIC number shown by the TV network seems to be original and of Tashfeen Malik, the suspected San Bernardino shooter who killed 14 people along with her husband before got shot dead by forces last week.
According to the Dawn, the CNIC number provided by CNN when sent to 8300 service of National Database and Registration Authority (NADRA), which is originally used to locate registered voters in Pakistan, returns a result " Tashfeen Malik D/O Gulzar Ahmad Malik."
The NADRA record, which is apparently original and verified, says that Tashfeen Malik is not a Pakistani national but also a registered voter with the same CNIC number.
"Tashfeen Malik is registered as voter number 612 at a polling station in Union Council Wahou Chak area of Dera Ghazi Khan," the newspaper reported.
It is also pertinent to be mentioned here that name of the suspect, father's name and address is same as shared by the US media.
Meanwhile the report is followed by New York Times' report which carried details about her stay in Pakistan during 2007 to 2015 when she was studying pharmacy at Bahauddin Zakariya University in the southern city of Multan in Pakistan.
The report that comprised of interviews of teachers and relatives of Tashfeen Malik said that during her stay at BZU Multan, she was considered as a polite Saudi girl who covered her face with veil and got admission on the seats reserved for overseas Pakistanis.
Initially Malik stayed at Maryam Hall, a hostel dedicated to residence of female students, but later she complained about her roommates, at which her family arranged a rented house for her.
"She stayed in the Blind Wing of Mariam Hall, but moved off campus to her family home in the city of Multan in 2009," classmates said.
A former BZU lecturer Dr Khalid Hussain Janbaz has been quoted as saying "we thought Tashfeen would become an asset to the university if she would join as lecturer." She had impressed the professors in just few days after her arrival, Dr Janbaz further added.
A spokesperson said there was nothing remarkable about Tashfeen Malik. "She was an ordinary student," Prof Dr Ghulam Shabbir told reporters. "We are still collecting information on her."
Reports say Malik attended a high-profile religious seminary for women in Multan run by Al-Huda International Welfare Foundation. The foundation has no militant links, but has been criticised for promoting extremist views.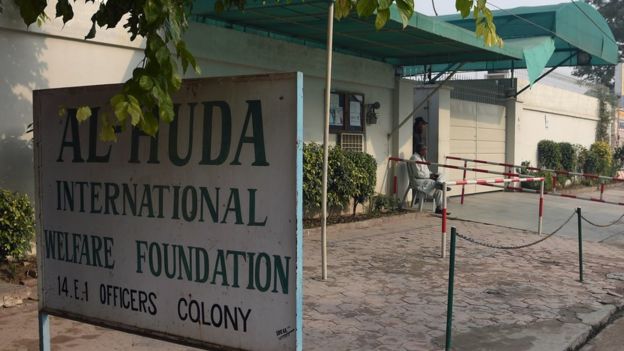 Discussing the family of Tashfeen Malik, the report said that her father Gulzar was an engineer by profession who moved to Saudi Arabia after a dispute with his brothers in 1970s.
In the following years, Gulzar reduced visiting his Pakistani relatives and just like him, his children also never visited them.
According to Cable News Network (CNN), the officials have raided an unoccupied house owned by Malik's father Gulzar in Multan city of Pakistan.
"The security forces broke into the house and removed several items," it added while quoting unidentified sources.
On the other hand, a deposit of $28,500 was made to Syed Farook's bank account on Nov. 18, some two weeks before he and his wife, Tashfeen Malik, went on a shooting rampage in San Bernardino, California, Fox News reported on Monday, citing a source close to the investigation.
Farook and Tashfeen Malik killed 14 people and wounded 21 others when they started shooting at a holiday lunch event on Dec. 2.
On or around Nov. 20, Farook withdrew $10,000 of the money in cash and deposited it at a Union Bank branch in San Bernardino, according to the Fox News source, who also told the cable news network that in the days before the shooting, there were at least three transfers of $5,000 each that appeared to be to Farook's mother.
Leave a comment
Make sure you enter the (*) required information where indicated. HTML code is not allowed.