Afghanistan asked to hand over Peshawar Incident suspects
Written by

Reporter KB

Published by:Pakistan Views
Wednesday, 18 February 2015 00:59
Chief of the Army Staff - General Raheel Sharif asked Afghanistan to hand over six suspected Peshawar school suspects in Afghan custody to Pakistan on Tuesday.
Pakistan and Afghanistan pledged to continue operation on their respective side of the borders vowing not to let any use of their soil against each other's country.
It was on Tuesday that The Army Chief, accompanied by Director General of Inter Services Intelligence (ISI) Lt Gen Rizwan Akhtar arrived in Kabul on a day-long visit for talks on security issues amid warm military-to-military relations.
General Raheel Sharif was called on President Ashraf Ghani at the Presidential Palace in the afternoon to lead a high level delegation.
The Army Chief raised the issue to handover Army Public School attacks' six suspects who had been arrested in Afghanistan, according to sources.
The six men suspected of being involved in APS attack were arrested last week by the Afghan authorities vide intelligence passed on by Pakistan, the army spokesperson Maj Gen Asim Bajwa earlier said during a media briefing.
"The Army Chief apprised Afghan president of Pakistan's efforts to push the peace process forward," a Pashto-language statement issued by the Palace said. "The messages from the Pakistani delegation were positive and their commitments have raised hopes that results will be clear within weeks. The Afghan govt. hopes that the Pakistani pledges and steps will yield positive results," the statement further said.
The army chief also met Afghan Chief Executive Abdullah Abdullah during his visit. Abdullah acknowledged the positive developments in bilateral relations between two countries including progress in operations, border management and intelligence sharing.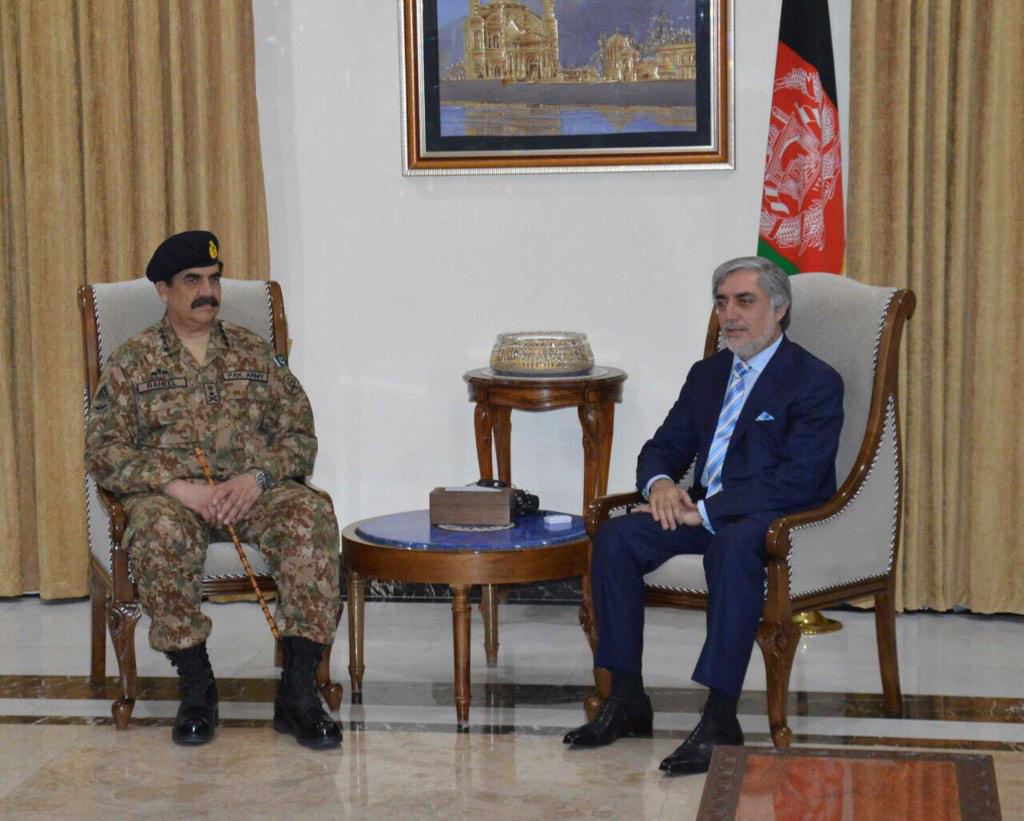 Earlier ISPR said the army chief and ISI chief had arrived in Kabul on a one-day visit to discuss matters pertaining to security.
Gen Raheel was in Kabul two months ago, a day after the horrific attack on the Army Public School in Peshawar to hold key meetings with Afghan President Ashraf Ghani and ISAF commander in Kabul.
During that meeting, Ghani had assured General Sharif that Afghan soil would not be allowed for terrorist activities against Pakistan, and any signature found in this regard will be immediately eliminated.
Further, the ISAF commander had assured the army chief of their complete support in eliminating terrorists in his areas of responsibility.
Leave a comment
Make sure you enter the (*) required information where indicated. HTML code is not allowed.