Proscribed ASWJ Growing Popularity Bagged them 40 Seats
Written by

Reporter KB

Published by:Pakistan Views
Monday, 07 December 2015 18:48
Alliances and seat adjustment between varied parties and Pakistan Rah-e-Haq Party (PRHP), banned sectarian party formerly known as Ahl-e-Sunnah Wal Jamaat, has bagged 9 seats in Karachi and 40 altogether.
The PRHP had strategic alliance and seat adjustment across Karachi with Pakistan Peoples Party, Pakistan Muslim League-Nawaz, Pakistan Tehreek-e-Insaaf and Jamaat-e-Islami, as they achieved success mostly in Pashtun and Bengali-populated neighbourhoods of the city.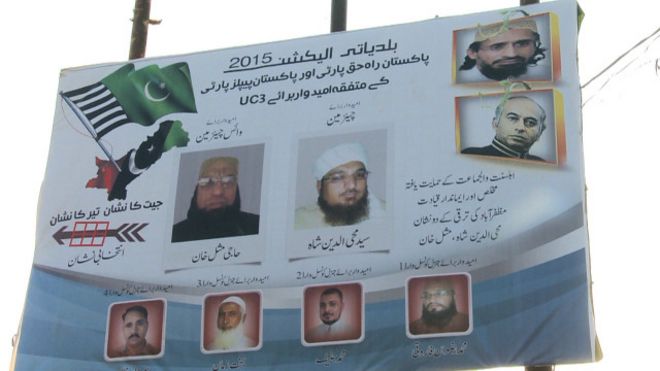 Syed Masab Hussain, the PRHP spokesperson in Karachi, said his party had fielded candidates in several union committees. He added that the party had bagged nine seats in the city and over 40 candidates backed by the party had also won in the elections. The spokesperson said Maulana Abdul Salam, a PRHP candidate who running for the slot of the vice-chairperson in the District Council Karachi's Union Council 29, had also won in alliance with the Pakistan Muslim Alliance, a political group representing the Bengali community in the city.
In addition, he added, the party had also won six ward councillor seats in Malir and West districts.
"Our party participated in the local government polls in Karachi without any preparation and received a good response from the city's residents," he said.
"Now we will field our candidates in the 2018 general elections across the country."
In Malir District, karachi an alliance with Pakistan Muslim League-Nawaz and Jamaat-e-Islamigrabbed their candidates a seat of chairperson in Muslimabad and Dawood Chowrangi union committees respectively.
However, the PRHP's electoral alliance with the PPP in the Muzaffarabad Colony union committee did not work well for the two parties. Their candidates, PRHP's candidate for the chairperson's slot, Maulana Mahiuddin Shah Al-Hussaini, and PPP's Haji Misal Khan for his deputy's seat, lost to the alliance between the Jamiat Ulema-e-Islam-Fazl and the PML-N. The PRHP-PPP alliance stood fourth in the race.
PRHP outclassed the Pakistan People's Party (PPP) and Pakistan Tehreek-e-Insaf (PTI) in Jhang local bodies election on Saturday, becoming the second major party in district after Pakistan Muslim League-Nawaz and it is in a position to form the district government.
Previously on 14th November 2015, Co-Chairman Pakistan Peoples Party Asif Ali Zardari had categorically denied for having done any alliance with Ahl-e-Sunat Wa-al Jamaat or any of its association.
Co-Chairman directed to all party leaders/ workers to refrain from meeting and showing any association with any proscribed organizations or their officials.
He said that Pakistan Peoples Party has a very clear declared policy to have no association with any of the banned outfit.
A promotion video of the party clearly indicates the number of candidates and alliances across LG elections.
Leave a comment
Make sure you enter the (*) required information where indicated. HTML code is not allowed.