NA-246: The Fight is On - PTI & MQM
Written by

Reporter KB

Published by:Pakistan Views
Wednesday, 08 April 2015 21:13
Karachi: A chain of event refer to PTI and MQM, contending over the seat of NA-246 by-elections 2015, intimidating each other with allegations of not only rigging but violence.
Pakistan Tehreek-e-Insaf's Chairman Imran Khan arrival in Sindh faced internal party workers brawls in Hyderabad before his arrival in Karachi greeted with wrangle in his press conference.
Prior his planes landing in Hyderabad, PTI workers had a tiff among themselves resulting in a fight. The advent resulted in Imran without addressing the supporter went on to visit the shrine of Shah Abdul Latif Bhitai in Bhit Shah, straight from the airport.
Later in the evening, Imran khan reached Karachi to stay at PTI's NA-246 Candidate, Imran ismail's house later to have a press conference that night, according to reports.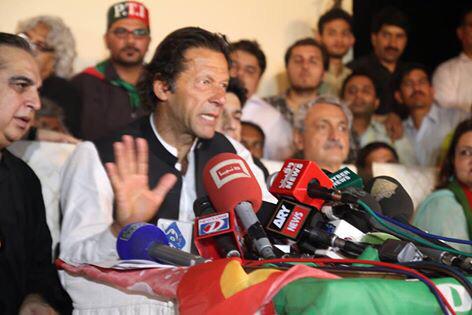 The much awaited press conference started amid clashes between PTI workers and Newsmen. Media anticipating something concrete awaited for it to start before PTI workers started closing doors on them. This resulted in an altercation with local media agitating over the attitudes of the party activists. Imran, later apologized on behalf of his followers mildly and moved on with his press conference to state that we'll file a case in London on Altaf Hussain, should any mishap occurs upon his visit to Jinnah Ground, Karachi.
His visit to the metropolis was to end the atmosphere of fear and tension that errupted during PTI's campaign in the constituency of NA-246, MQM's stronghold.
There has been scuffles and skirmishes between MQM and PTI party workers during PTI's campaign over the constituency, with both parties alleging each other resulting in filing of cases at local police stations, PTI filed for harassment while MQM for slander. MQM claimed that Imran suffers from Altaf Phobia, whereas PTI declared that MQM activisits are behind vandalizing their camps and offices, with worker harassment.
Karachi's NA-246 constituency in Azizabad was left vacant last month after then MQM MNA Nabeel Gabol resigned from his seat.
The MQM has nominated former Hyderabad nazim Kanwar Naveed Jamil as its candidate for NA-246 while PTI has fielded one of its founding members Imran Ismail as its candidate to contest in the election scheduled to be held on April 23.
A PTI delegation led by its candidate came under an attack on Tuesday at the Jinnah Ground which is the planned and likely venue for a PTI rally on April 19.
Leave a comment
Make sure you enter the (*) required information where indicated. HTML code is not allowed.