'Pakistan Cup 2016' The Next Big thing after PSL | Players Draft
Written by

Reporter KB

Published by:Pakistan Views
Wednesday, 13 April 2016 18:13
Lahore: Fresh from successfully organizing the HBL Pakistan Super League, PCB has announced plans for the Pakistan Cup 2016 from 19th April to 1st May in Faisalabad.
Pakistan's 75 top cricketers will take part in the Pakistan Cup 2016, the country's premier domestic 50-over tournament. The tournament will bring together teams representing Balochistan, ZIC Federal Capital, Boom Boom Bubblegum Khyber Pakhtunkhwa, Cookania Cake Rusk Punjab and Inverex Sindh.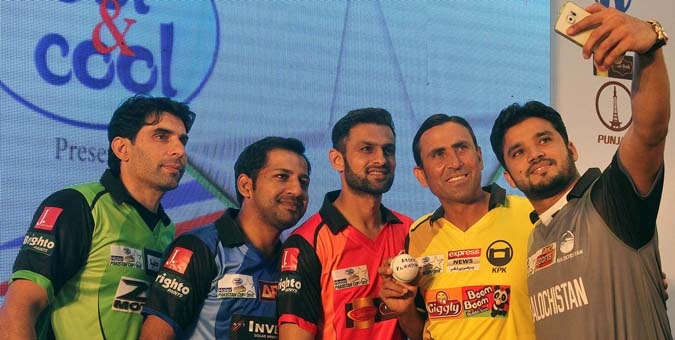 Initially a 15 member squad was drafted for the cup later to announce an addition of an under 19 player as the 16th man.
Teams
ZIC Islamabad,
Brighto Paints Balochistan,
Boom Boom Bubble Gum Khyber Pakhtunkhwa,
Inverex Sindh
Cookania Cake Rusk Punjab
ZIC Islamabad
Captain Misbah ul Haq,
Mohammad Sami,
Kamran Akmal,
Mohammad Irfan,
Nasir Jamshed,
Zafar Gohar
Sharjeel Khan.
Coached by Mansoor Rana and Sabih Azhar.
Brighto Paints Balochistan
Captain Azhar Ali,
Babar Azam,
Junaid Khan,
Umar Akmal,
Saeed Ajmal,
Sohail Tanvir,
Umar Gul
Bilawal Bhatti.
Coached by Ijaz Ahmed and Taimur Azam
Boom Boom Bubble Gum Khyber Pakhtunkhwa
Captain Younus Khan,
Mohammad Asghar,
Fakhar Zaman,
Musaddiq Ahmed,
Zohaib Khan,
Faheem Ashraf,
Yasir Shah
Coached by Abdul Rehman and Kabir Khan
Inverex Sindh
Captain Sarfaraz Ahmed,
Mohammad Amir,
Sohail Khan,
Khalid Latif,
Sohaib Maqsood,
Fawad Alam,
Imad Wasim,
Anwar Ali,
Sami Aslam
Coached by Tauseef Ahmed and Iqbal Imam
Cookania Cake Rusk Punjab
Captain Shoaib Malik,
Shan Masood,
Salman Butt,
Mohammad Rizwan,
Asad Shafiq,
Zulfiqar Babar,
Ehsan Adil,
Saad Nasim
Coached by Atiq uz Zaman and Mautashim Rashid.
Cool & Cool presents Haier Pakistan Cup 2016 will take place from 19th April to 1st May in Faisalabad.
In order to ensure the maximum youth participation in Pakistan Cup, PCB has decided that each regional team will support a 16-man squad instead of a 15-man squad. The additional person will be an Under-19 player. One Under-19 player must be included in the Playing XI for each team. The respective players added are:
Sameen Gul, Khyber Pakhtunkhwa, Right-arm fast bowler
Shadab Khan, Federal, Right arm leg spinner, Right hand middle order batsman
Salman Fayyaz, Punjab, Left hand middle order batsman, Right arm leg spinner
Ghulam Haider, Balochistan, Left arm spinner
Hasan Mohsin, Sindh, Captain U-19, Right hand batsman, Right arm medium fast bowler
Leave a comment
Make sure you enter the (*) required information where indicated. HTML code is not allowed.