Shiites and Sunnis stand in Prayers Together for National Unity in Kuwait
Written by

Reporter KB

Published by:Pakistan Views
Saturday, 04 July 2015 14:41
KUWAIT CITY: Thousands of Shiites and Sunnis prayed together for national unity in the Kuwaiti capital on Friday, vowing to block any attempt to stir sectarian division a week after a deadly mosque bombing by ISIL.
The noon prayers at the Grand Mosque were attended by the emir, Sheikh Sabah Al Ahmad Al Sabah, along with the crown prince, parliament speaker and several cabinet ministers and lawmakers.
Armoured vehicles, elite forces and policemen stood guard outside and all roads leading to the mosque were closed to vehicles. Worshippers were thoroughly searched before being allowed inside.
Security was also tight at Shiite mosques, with security cordons around them and roads leading to them closed to traffic.
The suicide bombing at a Shiite mosque in the capital on June 26 killed 26 worshippers and wounded more than 200.
The attack was claimed by the Saudi affiliate of the Sunni extremist group ISIL, which also carried out bombings at two Shiite mosques in Saudi Arabia in May, killing 25 people.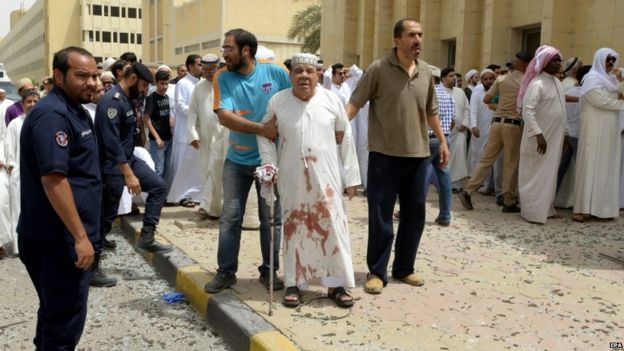 The GCC on Thursday called for a united stand following the string of bombings, calling them "criminal acts not linked with Islam and its values".
"Terrorist attacks that targeted places of worship aim at sowing dissent, promoting divisions, undermining security and terrorising and killing innocent people," the group's interior ministers said after an emergency meeting in Kuwait City.
The UAE delegation to the meeting was led by Sheikh Saif bin Zayed, Deputy prime minister and Minister of Interior.
The ministers also hailed the solidarity among Kuwait's people, saying it sent an unequivocal message to those conspiring to stir up sectarian strife.
Following the attack on the Imam Al Sadeq mosque, billboards across Kuwait went up showing an image of the Kuwaiti flag wrapped around a hand, with the slogan: "We stand as one." One of the landmark Kuwait Towers was graced with an illuminated message of condolence that referred to those killed as martyrs.
Sunni activists took to social media urging Sunnis to pray at Shiite mosques, while Kuwaiti celebrities appeared in television commercials speaking about unity. Within hours of the blast, four of the country's best-known singers recorded and released a song praising Kuwait's history of coexistence.
At Kuwait's Grand Mosque on Friday, prayer leader Sheikh Waleed Al Ali, a Sunni, called for national unity and urged Muslims to abandon extremist ideology.
"Extremism has led to this bloodshed," he said.
Both Sunni and Shiite worshippers stood in rows beside each other, each praying according to their tradition.
"Our message today is that Kuwait is united and nothing will ever succeed to divide us," said Abdullah Nuri, a Shiite engineer.
"The highly positive reactions by our Sunni brothers after the blast made us very satisfied."
"This is a proof that Sunnis and Shiites are the same and that they [terrorists] will not succeed in dividing this country," said Abdullah Al Nejada, a Shiite cleric.
Shiites make up about a third of Kuwait's 1.3 million citizens.
Kuwait, declaring itself in a state of war against "terrorism," has placed security forces and the police on high alert.
A large number of suspects have been arrested, and five sent to the public prosecution.
"This is a clear message to terrorists that you will not succeed in your plot. This is the Kuwaiti response to you," MP Khalil Abul said he left the mosque.
Another MP, Adnan Abdulsamad, said ISIL were "fools" for thinking they could destabilise Kuwait and the attack had only made Kuwaitis more determined to promote solidarity.
"This prayer is a prayer of unity," he said. "This heinous crime only brings us further strength and tolerance. Thank God it made our enemies fools. Were they under the illusion that with this crime they would create discord?"
On Wednesday, parliament approved US$400 million (Dh1.47 billion) in emergency funding for the interior ministry.
Joint prayers were also held in Bahrain on Friday, where dozens of Shiites and Sunnis prayed side by side in a mosque near the capital.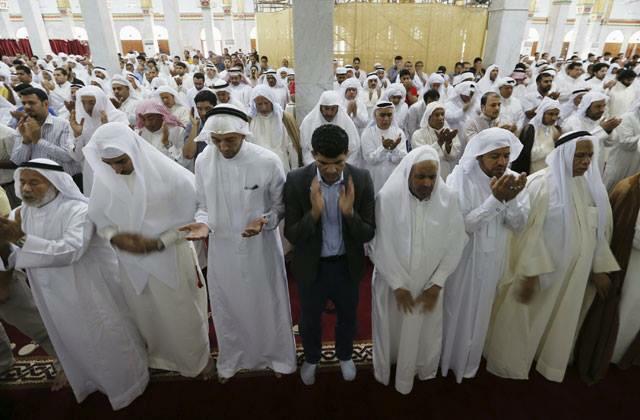 Residents said tight security was in place for the special session of weekly prayers at the mosque at Diraz, a Shiite village west of Manama.
The joint prayers were a show of Bahraini "unity in the face of those plotting against the Arab and Islamic world", said Bahrain's justice and Islamic affairs minister, Sheikh Khaled bin Ali Al Khalifa.
The attacks on Shiite mosques in Saudi Arabi and Kuwait were claimed by Najd Province, ISIL's affiliate in Saudi Arabia, and Kuwaiti authorities have identified the Kuwait City bomber as Fahd Suleiman Abdulmohsen Al Qaba'a, a Saudi born in 1992.
Saudi security forces on Friday recovered ISIL flags, silencers and laptops during a raid in the mountain city of Taif, about 200km east of Jeddah.
A police sergeant was killed in the exchange of fire during the early morning raid, the Saudi Press Agency reported, citing the interior ministry.
One wanted man, identified as Yousif Abdulatif Shabab Al Ghamdi, remained at large, the report said.
Leave a comment
Make sure you enter the (*) required information where indicated. HTML code is not allowed.