Turkey Twin Blasts: Death Toll Rise to 86 with 186 injured
Written by

Reporter KB

Published by:Pakistan Views
Saturday, 10 October 2015 16:50
Two explosions have ripped through a pro-Kurdish peace rally in the Turkish capital of Ankara, leaving multiple casualties.
Witnesses described how the blast shook the ground at the road junction near the main train station in the centre of the Turkish capital Ankara, leaving body parts and debris all over the road.
The Ankara prosecutor have confirmed that at least 86 people have been killed and over 186 wounded in the blasts.
A man cries at the blast scene after an explosion during a peace march in Ankara. Photograph: Erhan Ortac/Getty Images
Television footage showed scenes of panic and people lying on the ground covered in blood, amid protest banners.
The blasts took place near the city's central train station as people gathered for a march organised by leftist groups to protest violence between authorities and the Kurdistan Workers Party or the PKK.
Government officials say the blasts were a terrorist attack, and are investigating reports that a suicide bomber was behind at least one of the explosions.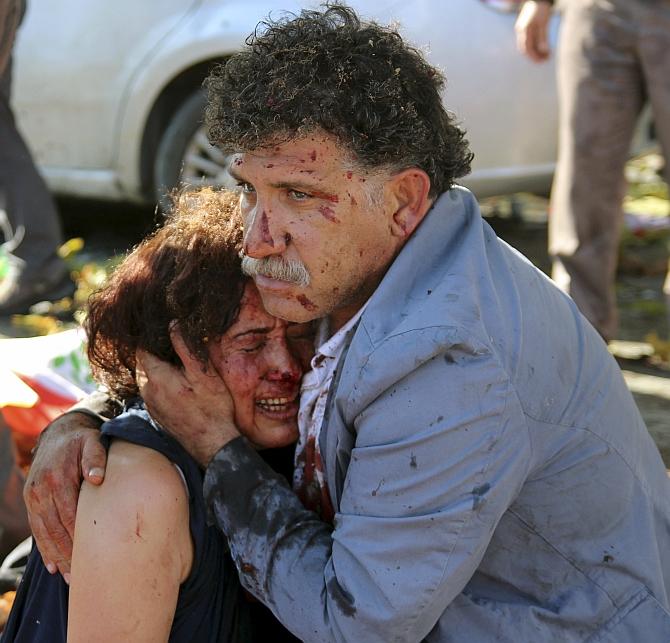 An injured man hugs an injured woman after an explosion during a peace march in Ankara. Photograph: Tumay Berkin/Reuters
Footage screened by broadcaster CNN Turk showed a line of young men and women holding hands and dancing, and then flinching as a large explosion flashed behind them, where people were gathered carrying HDP and leftist party banners.
"We are faced with a very big massacre, a vicious, barbarous attack," HDP leader Selahattin Demirtas told reporters.
Violence between the state and Kurdistan Workers Party militants has flared since July, when Turkey launched air strikes on militant camps in response to what it said were rising attacks on the security forces in the predominantly Kurdish southeast. Hundreds have since died.
Those involved in the march tended to the wounded lying on the ground, as hundreds of stunned people wandered around the streets, Reuters reports, adding that bodies lay in two circles around 20 meters apart where the explosions appeared to have taken place.
"This is a ruthless and barbaric attack on peaceful demonstrators," Council of Europe Secretary General Thorbjorn Jagland said in a statement. "Freedom of assembly and freedom of expression are fundamental pillars of democracy."
Right Click Video to Play
Leave a comment
Make sure you enter the (*) required information where indicated. HTML code is not allowed.