Ten Killed to Include 3 BSF Officers in Plane Crash Near Delhi Airport
Written by

Reporter KB

Published by:Pakistan Views
Tuesday, 22 December 2015 10:56
New Delhi: At least ten individuals have been reported dead when a small air plane of the Border Security Force (BSF) crashed into a wall near the Delhi airport on Tuesday Morning.
All on board, including three BSF officers and seven technicians, were killed.
A Super King aircraft flying to Ranchi crashed at around 9.50 am, moments after technicians lost contact with ground control.
A Ranchi-bound BSF Superking aircraft carrying technicians loses contact with ground control: BSF sources.

— Press Trust of India (@PTI_News) December 22, 2015
Sources say the plane hit a wall and then crashed into a septic tank. The aircraft burst into flames and has been badly damaged. A part of it is in water.
First Visuals from near the spot where Ranchi-bound BSF Superking aircraft crashed in Delhi's Dwarka. pic.twitter.com/SVUoj3qQxN

— ANI (@ANI_news) December 22, 2015
More than a dozen fire engines are at the spot, besides security forces and a crowd from a village nearby.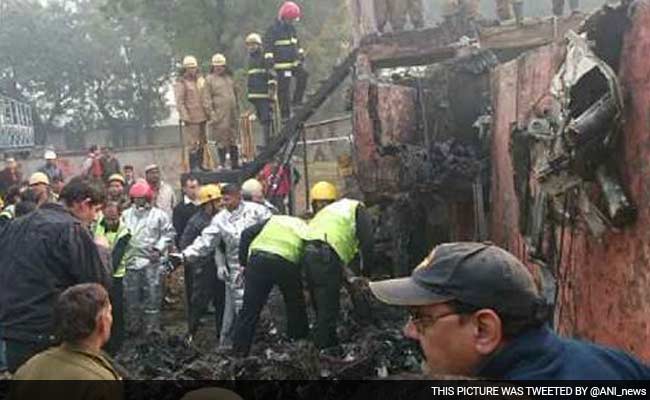 These aircraft are usually used by top officials and ministers. The plane that crashed had senior technicians who were flying to Ranchi to repair a helicopter
"The tragic news of BSF plane crash near IGI airport in New Delhi is extremely painful. Rushing to the crash site immediately," Home Minister Rajnath Singh tweet.
Details about how, why the crash happened will be known after enquiry is over: Mahesh Sharma,MoS Civil Aviation pic.twitter.com/uRbJjDnsYe

— ANI (@ANI_news) December 22, 2015
Leave a comment
Make sure you enter the (*) required information where indicated. HTML code is not allowed.