Turkey Hit 2nd Time in a Week | 34 Killed with 125 Injured
Written by

Reporter KB

Published by:Pakistan Views
Monday, 14 March 2016 11:02
At least 34 people were killed and 125 others were injured after a strong blast took place in capital Ankara's Kızılay Square on Sunday, Health Minister Mehmet Müezzinoğlu announced.

A bomb-laden vehicle reportedly exploded between two passenger buses near crowded bus stops located at the heart of the city. Many vehicles and buses were reported completely or seriously burned.
A Turkish official later said that initial findings suggest Kurdistan Workers' Party (PKK) or a PKK-affiliated terrorist organization carried out the attack.
Speaking after an emergency security meeting, Health Minister Mehmet Müezzinoglu said 125 people were wounded, 19 of which are in serious condition. He said that 30 of the fatalities died at the scene while the other four perished at hospitals.

Interior Minister Efkan Ala said Sunday's attack won't deter the country from its fight against terrorism. He confirmed the blast as a car bomb that targeted civilians at a bus stop.

He said authorities have obtained evidence but won't make an announcement on those responsible until the end of the investigation.
Sunday's bombing in Ankara was the 3rd attack that targeted the Turkish capital in recent months.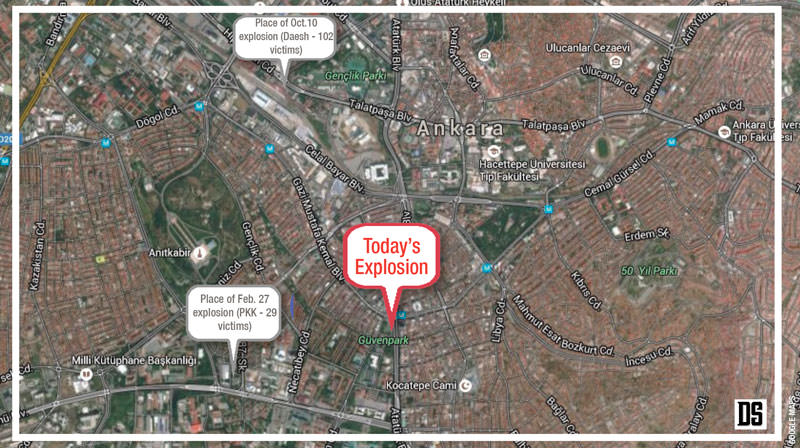 DS Photo
Ankara's Gölbaşı Court ordered a ban on access to Twitter, Facebook and some other social media platforms to prevent images of victims from being shared.
Kızılay Square serves as the city's main square and main transportation terminus and known as the heart of commercial activities and entertainment in the city.
President Recep Tayyip Erdoğan also made a statement after the blast, offering his condolences to the Turkish nation. In his statement, he said Turkey will not give up on its right of self-defense against terror threats and vowed to continue the fight terror groups targeting the country.
The explosion scene is roughly one kilometer away from the point where a car bomb attack by the PKK terror organization that killed 29 people on Feb. 27.

Ankara was also targeted by Daesh-linked suicide bombers on Oct. 10, 2015, killing 102 people during a peace rally.
Leave a comment
Make sure you enter the (*) required information where indicated. HTML code is not allowed.