ISIS 'Daesh' Documents Leaked | Identities of 22,000 jihadis and Suicide Bombers Revealed
Written by

Reporter KB

Published by:Pakistan Views
Thursday, 17 March 2016 19:59
LEAKED Islamic State (IS) 'Daesh' registration forms have revealed the identities and addresses of 22,000 jihadists and potential suicide bombers, both Sky News and German Authorities have claimed access to them.

The documents list jihadists from at least 51 countries, including the UK, United States and Pakistan, as well as personal details like their phone numbers and family contacts.
The documents suggest 70% are Arabs with only 1.7% as native Syrians. Two thirds of ISIS manpower were from Saudi Arabia, Tunisia, Morocco and Egypt. 25% of ISIS fighters are Saudis, the data disclosed. Topping the list were Turks with French to follow.
Zaman Al Wasl, a pro-opposition Syrian news website, and Sky News published a selection of the forms online showing a 23-part survey detailing extremists' names, birth dates, nationalities, hometowns, nationalities and even blood types.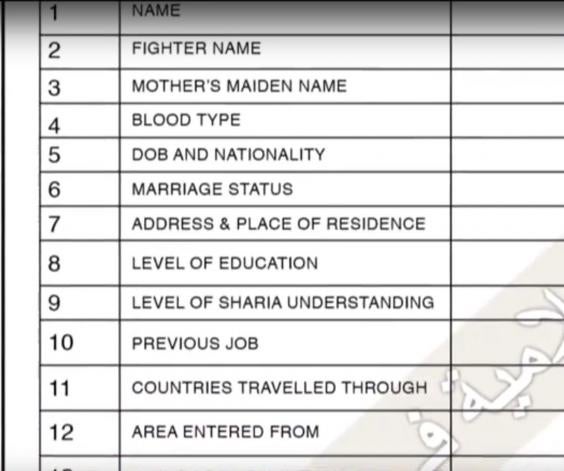 While the documents list many well-known jihadis like Abdel Barry and Junaid Hussain, they have also revealed the identities of previously unknown recruits across Europe, in the US and Canada.
There were also documents titled 'Martyrs', which listed a group jihadis who were specifically trained to carry out suicide attacks.
As well as revealing identities, the documents showed that many of the unknown fighter had passed through jihadi 'hot spots' like Yemen, Sudan, Libya, Pakistan and Afghanistan on multiple occasions to fight in Syria and return home on multiple occasions.
Many of the phone numbers on the list are reportedly still active, with Sky News reporting that it is believed that a significant number of them are still being used by the jihadis.
A former Free Syrian Army fighter who was recruited by ISIS, who called himself Abu Hamed, handed Sky News the memory stick which contained the files allegedly stolen from the head of ISIS' internal security police.
The detailed data is divided into 23 categories, including previous fighting experience, special skills, who they were recommended by, and countries travelled through.
Timothy Holman, who translated part of the cache into English, said the documents were collected at border crossings into Isis territory between November and December 2013.
Sky News said it obtained its files on a memory stick stolen from the head of Isis' internal security police by a former Free Syrian Army fighter who defected to the "caliphate" but became disillusioned.
Leave a comment
Make sure you enter the (*) required information where indicated. HTML code is not allowed.